Michael Banis
Chief Operating Officer
Michael Banis is the Chief Operations Officer of Virtue Recovery Centers. He oversees locations in both Arizona and Oregon. Michael has over a decade of substance abuse and management experience with a determined mindset and drive to help people which comes from his personal experience in recovery and the desire to help those affected with substance use issues find a new way to live. Michael has assisted in developing and building programs in the Pacific Northwest and understands the needs of those suffering in addiction and afflicted with mental health issues. His goal is to bring comprehensive care to people with his team recruited from around the country to bring a more mental health and trauma informed approach to the addiction field. Michael advocates for treatment to be evidence based and client centered to better address each person's individual needs and experience. Michael enjoys being hands on with each person and families of those that come to Virtue. Active in the fellowship he finds that we do recover and knows it is something we should not miss.
Erin Jaeger, LPC, NCC
Clinical and Executive Director
Erin has been working with people who have substance use disorder since 2007. She started out as a tech, then as a counselor, then as a clinical coordinator. She currently serves as the Executive Director and Clinical Director at VRC in Sun City West. Over the years, Erin worked with adults and juveniles in detox, residential, IOP, OP, MAT, hospitals, and schools. The strength, resilience, and determination that our clients display make them some of the most inspirational people she knows. Erin is very grateful to work with such amazing staff and clients at VRC.
Maria T. Smith, LCSW
Clinical Director
Maria has been in the behavioral health/mental health field for over 25 years. She has a Master of Social Work Degree from Arizona State University and is a Licensed Clinical Social Worker by the State of Arizona. For the last 20 years her focus has been providing general mental health and substance abuse therapy to adolescents, adults, and families to assist them in reuniting with loved ones and maintaining them in the home.
Maria has also provided clinical supervision to other therapists and college interns to assist them in professional development. She has participated in providing training at conferences and webinars, reaching many people around the United States committed to helping others heal and find peace.
"Freedom, comfort, and peace – this is the vision I have for you and your family, as much as I have for myself. Let's go on this journey together to help you become the best version of yourself." -Maria T. Smith, LCSW
Dr. Michael Vines
Psychiatrist
Dr. Vines is a licensed psychiatrist in the state of Arizona. Dr. Vines completed his education at the University of Georgia and Mercer University School of Medicine before completing psychiatric residency training at Maricopa Medical Center. Dr. Vines is the Medical Director at Virtue Recovery Center.
Cara M Lohff
Executive Chef
Cara comes from an Italian family. Being raised in New York, her mom and grandmother cooked up savory dishes. Her Grandmother is Sicilian from Palermo, Sicily. My parents both worked, and when I would get home from school, she would help her grandmother cook. That is where her passion for cooking and creating food art comes from. Not realizing how much she loved her home in the kitchen, she decided to be in the beauty industry for 20+ years, where she traveled the country as a platform artist for a major hair product manufacturer.
One day she had an opportunity to return to school and achieve her Associate's Degree in Culinary and Business. She continues to earn her Bachelors of Applied science in Nutrition and Business.
Cara previously has been an Executive Chef / Director of Dining for 8+ years. She has worked at Compass Group, one of the largest food service vendors/companies worldwide. She was most recently the Director of Dining for a senior living community where she created the menus and implemented Covid dining procedures & policies for the company. To ensure the safety of the residents & staff.
Cara is a wife, mother of 3, and an animal lover! She has 4 dogs, 1 puppy, 2 cats & 1 desert tortoise. You can find her spending time with her family on the weekends, either camping, fishing, practicing archery and traveling abroad.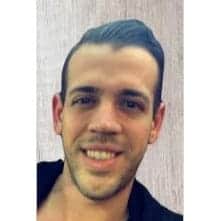 Yaronn Kreise
Military Veteran Liaison
Yaronn Kreise was born and raised by a single mother in Brazil  until the age of 13, when he moved to the US. After school he joined the Marines and spent 4 years in uniform, during which he was deployed to Afghanistan in 2010. Upon returning from deployment he moved to Phoenix, Arizona where he currently resides. In his spare time he loves spending time with his family and trail riding in his Jeep.
As someone who has seen combat and suffers from PTSD himself, he has a unique understanding of what other vets are going through. It pains him to see his fellow brothers and sisters going through the same struggles that plague him everyday, and as such he devotes his energy to helping as many vets as possible find the help they need. He worked at the VA for2 years before joining the Virtue Recovery team at the end of 2021 where he continues to support his fellow veterans.